Theatre Manager allows you to sync your Calendar in Theatre Manager to one or more of your own private devices (like a phone, tablet or computer).
For example:
I can be assigned to usher, work backstage, attend various rehearsals, or be part of a committee. Activities assigned to me can appear on my iPhone.
Single or Subscription tickets that I purchase can appear with the performance dates and times on my computer calendar and my tablet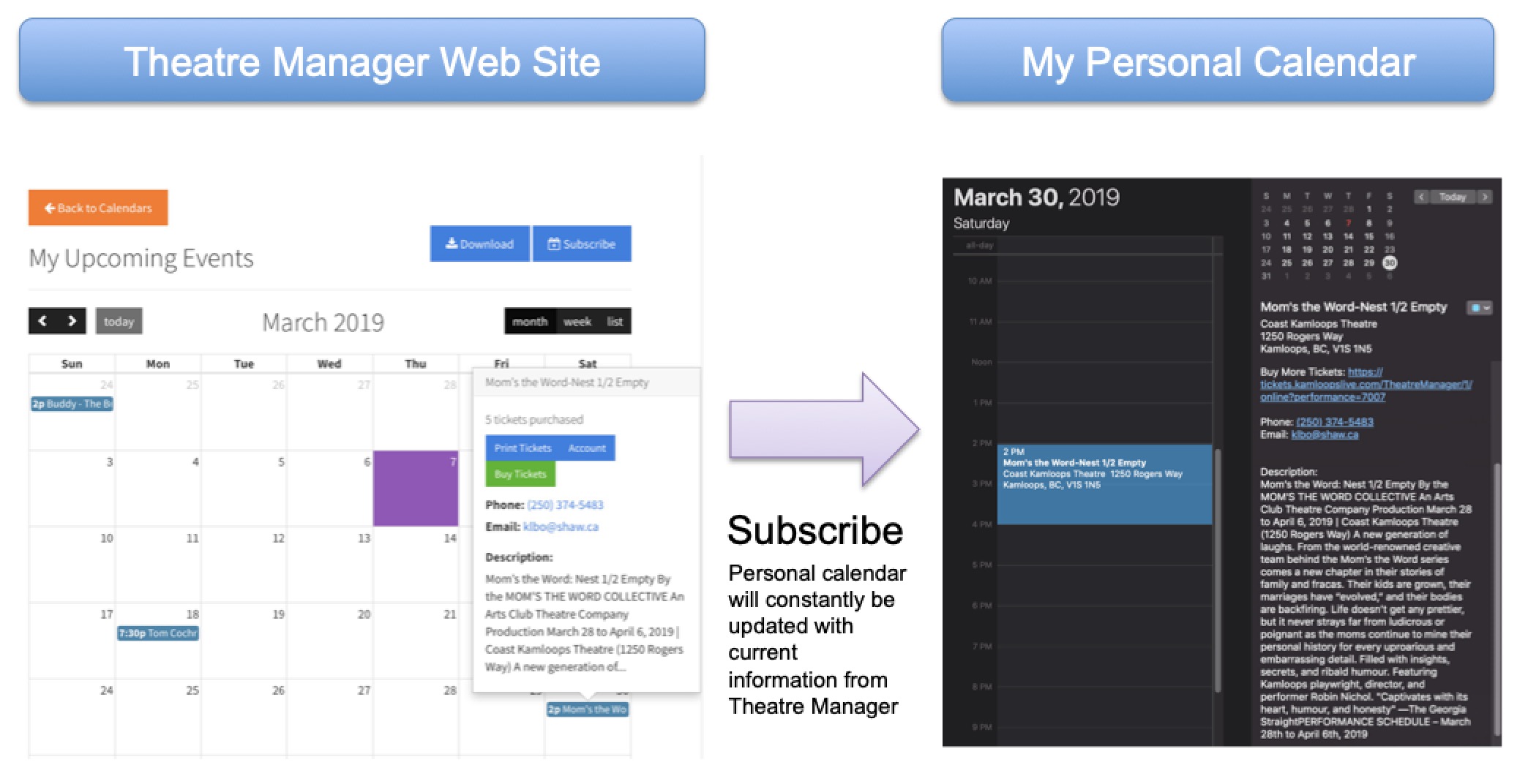 The Key is Subscribing to a Calendar from the Web Site
This feature is available to anybody involved with your venue and who can log into the website.
To keep a private calendar up to date in your tool of choice (eg iCal, Outlook, calendar on a phone), you will need to do the following three stems one time only:
Log into the web site using your patron email address.
Create a calendar Access Token (you can reset it periodically if you want to change your security token - but doing so means you will need to resubscribe to the calendar)
add the calendar to your personal calendar by one of two methods:

Easy: click the subscribe button on the calendar (upper right of the web page) which should automatically add a link to this calendar into your preferred calendar tool set up on the current device -OR-
If your personal device cannot process the click; obtain the url to the calendar and manually open your tool of choice to use their Subscribe feature -OR-
If you want it on a different device than you are looking at, copy the link and email it to yourself. Then open the email on the other device.
Alternatively, you can Download and Import a Calendar
If you do not want your calendar linked to Theatre Manager and receive automatic updates, you can get the calendar data into your device by:
Looking at the calendar and download it (or receive it in a ticket email confirmation)
double click the ICS file on your device to add it to your calendar.
This will make a static copy of the calendar that you can maintain yourself.