You can change the performance from one venue to another. There are situations to consider, which may alter what you want to do:
Case 1: all general admission performances
Case 2: reserved seating performance with nothing sold to it yet
Case 3: changing maps to a venue with the same orientation, seating and capacity - probably duplicated from another map and created for price zone changes
Case 4: changing map for another venue with completely different seating, orientation, size and with tickets sold
CASE 1: General Admission Performances
You can change the venues at any time.
CASE 2: Reserved Seating Performances with no seats sold
If there are no seats sold yet to the reserved seating performance, then there is little impact.
Change to the new venue (whether it has more os less seating capacity
Verify the seats in the performances
you can now sell tickets
CASE 3: Venue with same orientation and reserved seating, seats can be sold
If a venue is really the same, with same seats, similar size, with perhaps a few seats removed for orchestra pit, or if the price zones are different for the purpose of dynamic pricing.... then change the venue that the performance is in. It is best to simply hold the seats you don't want to sell but if you must change the venue
It is assumed that the location of the patrons seats are the same
Any seat that is in a part of the venue where the seats have been removed - will become general admission and you will need to reseat them
Verify the seats in the performances
you can now sell tickets
CASE 4: Reserved seating events with seats sold and completely different venue orientations
However, if seats are already sold, be aware of the following ramification. Seats in the new venue have the same seat numbers as the original venue. This may cause patrons to be split into different areas.

Refer to the image and the description below: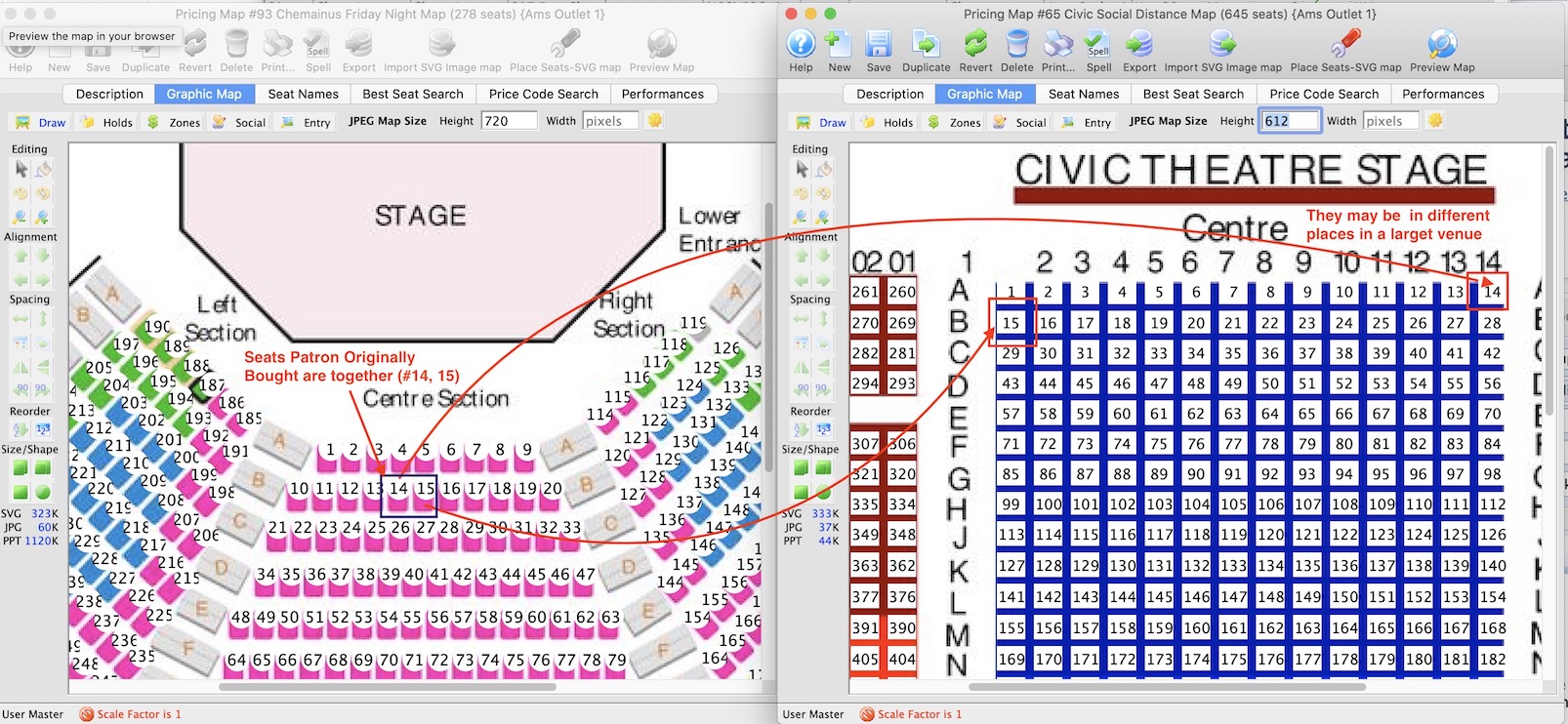 If you simply used the new venue and made more seats, then people may not have seats where you think.
The left venue represents 'smaller' venue.
The right venue represents a larger venue

The patron has seats 14 and 15 which are:

Center, Row B, Seat 7
Center, Row B, Seat 8

the same seats 14 and 15 now represent

Center, Row A, Seat 14
Center, Row B, Seat 1
The reason this happens is because Theater Manager:
doesn't know anything about spatial orientation.
all it can do is make an equivalence based on
they had seats 14 and 15,
They still have seats 14 and 15
but they may be called something different and you many not be together.
so, changing a venue in this manner, while it works, is really intended for moving to spaces that are equivalently set up -- as in dynamic pricing.