Once you have clicked Save on the Report Card Insert Window, click the Report Cards tab. The list of students registered is available to issue report cards. This list comes from the Attendance tab for the Course.
In the top portion of the window (just above the Notes and Report Cards tabs) are the Completed and Remaining boxes. These show you the number of report cards that have been filled out and those that are left to be done.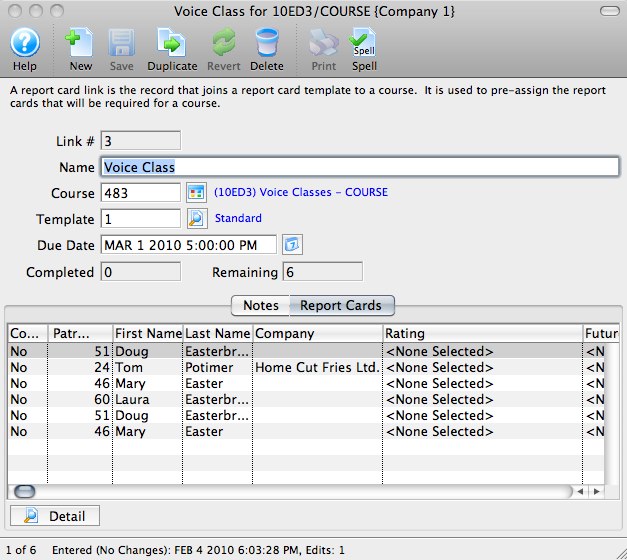 Double-click on a student's name to open up the student's report card record.

The Report Card Information is already populated.
Under Status & Future Recommendation, there is a checkbox to mark that Report Card completed, and there are two drop-down menus.
Overall Rating is for the student's final grade or overall rating for the Course. This drop-down is populated from the Course Report Card Ratings from Code Tables.

Next Level will print on the report card as Next Recommended Course and is populated from the Course Level, also from Code Tables.

The Internal and External Notes fields work in the individual report cards much like the same fields work in the Report Card Template. Internal Notes will only appear inside Theatre Manager, and External Notes will print on the student's report card. The notes in *this* window only apply to the selected student.
Click the Evaluation tab to move on to assessing the student based on the Categories and individual items in the report card.

Highlight a Category on the left to enable the items for each category as set up in the Report Card Template.
Assign a Rating for each item under each Category. The comments beside each item will print on the report card in line with that item.
Click the Save button.

Close the report card to move on to the next student in the Report Cards list.