Payment receipts are optional and can be printed on demand. However, if you have customers who request a receipt, Moneris has specific requirements if the payment was made using EMV devices.

We have created one you can download and import that meets Moneris requirements and is designed specifically for the P400.

If you need to print receipts for Moneris Pin Pad authorizations, you will need to set up your ticket faces as follows:
Download a template Moneris EMV ticket face from the ArtsMan web site
Unzip the file so that you see the MonerisEMVTicketFace.tmf file on your desktop
Open the list of Ticket Faces window which should look similar to the image to the right.

Click the Import button at the top of the window
look for the file called MonerisEMVTicketFace.tmf on your desktop and import it
after importing the new ticket face, it will appear in the list of ticket faces. Look for the ticket face number of this Moneris EMV ticket face in the list. It will be used in the next step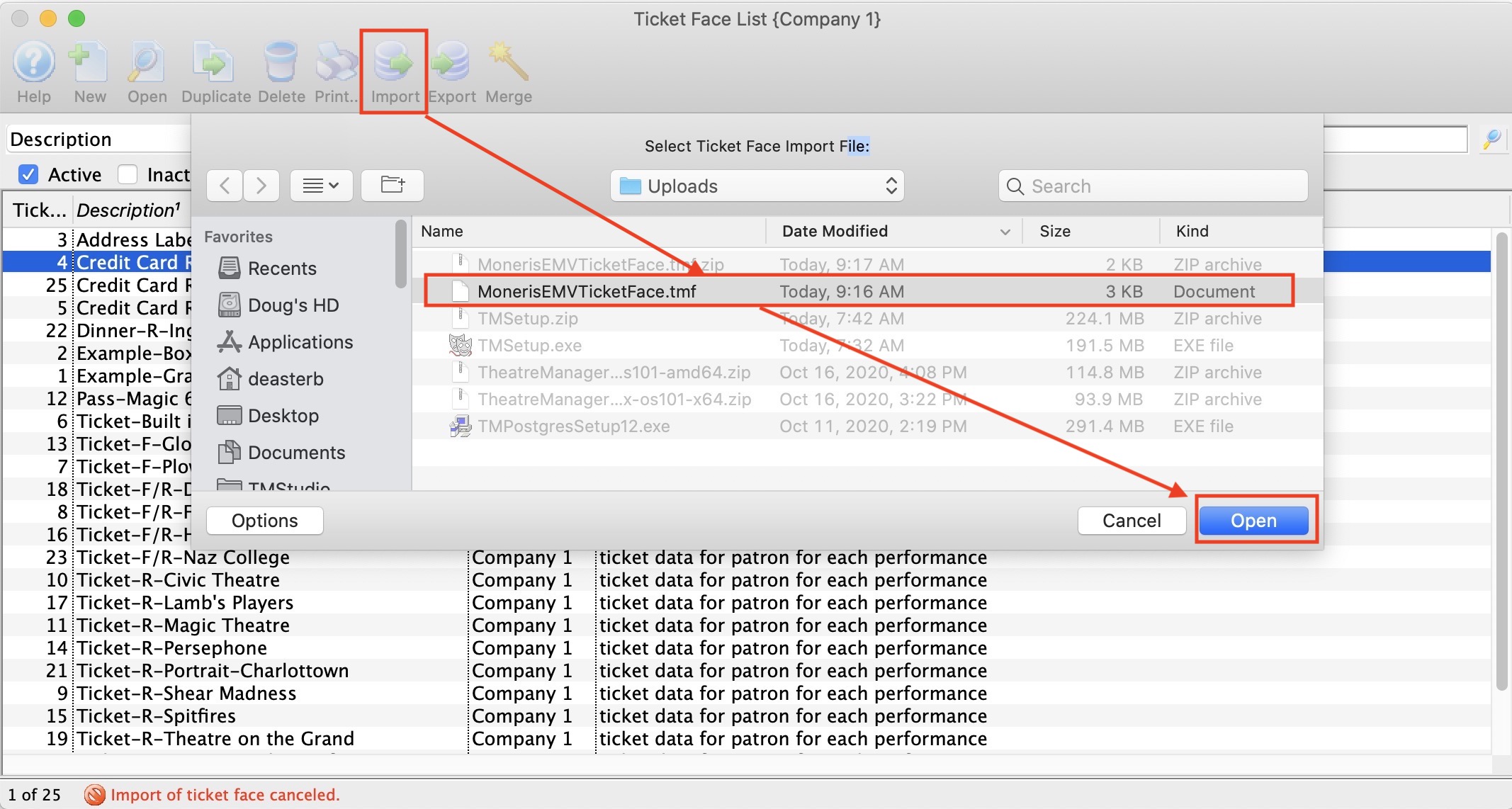 You have now imported a ticket face file. You can now edit this ticket face if you want to make any additional customized changes to the receipt layout based on any possible ticket face background images you may have preprinted on the ticket stock.
Additional Steps to implement the ticket face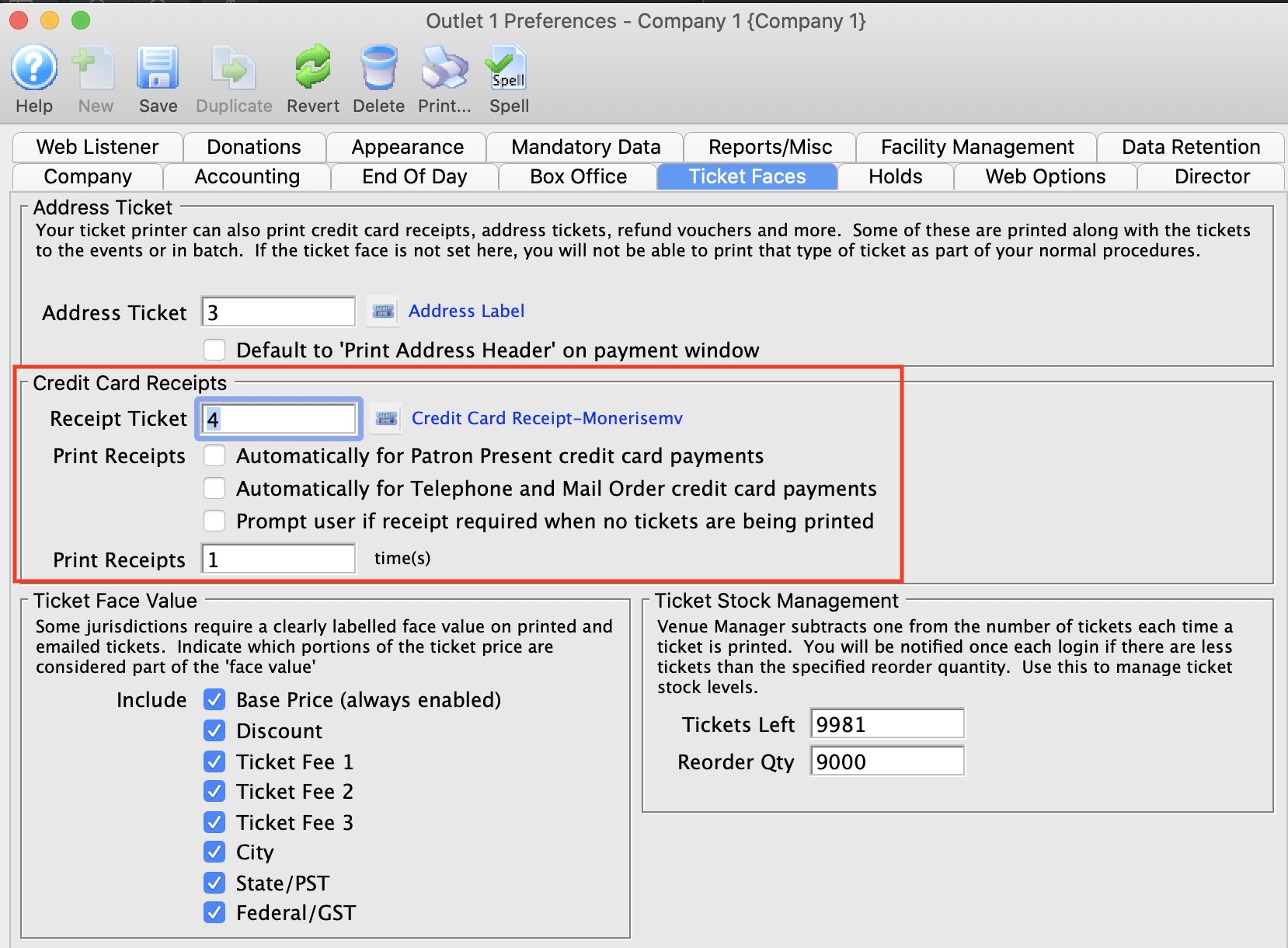 After importing the ticket face, you will have to decide a few things on the company preferences
Ticket Faces Tab
under the section
Credit Card Receipts
. All the fields/options in this area may need adjustment.
Receipt Ticket - Change the ticket face number there to be the one you recorded above
Print Receipts - has 3 options to consider:

Automatically for Patron Present. Moneris give you the option of always printing a receipt, or only printing a receipt on demand. We recommend only printing a receipt on demand. Uncheck this option unless you always want to print are receipt of the ticket printer for any credit card payment.
Automatically for Telephone and Mail Order. Moneris may require a signature for card numbers typed into the EMV machine for payments taken over the phone since the card is not present. Check this option if you wish, although we recommend not. The better alternative is to batch print the receipt along with tickets if emailing or holding at will call. The receipt should automatically include a signature line.
Prompt User if receipt required If you are unsure if you want to print receipts for tapped in chip/pin authorizations, but you want to give the patron the choice, you can check this option.

We recommend not to since this adds an extra prompt you have to agree to when selling payments at the box office.
If you don't print the receipt you can go to the payment window and print a receipt if asked.
For years, most people have neither asked for nor requireda reeipt. This is even more true these days of social distancing.
again, receipts can always be batch printed for will call or mail to patron tickets.

Print Receipts xx times. This is designed for situations where you, the merchant, want a receipt copy as well as the customer. It you always, print for the customer, enter 1. If you want one for yourself as well, enter 2.

Moneris does not require you to print one for yourself if they are stored electronically and can be reprinted. Theatre Manager stores all payments and Moneris EMV responses precisely for this purpose so you can reprint later if need be. We suggest not printing a merchant copy in this electronic age.