Version 9.08 is a minor feature release
Upgrade Time
The upgrade time from version 9.07 is a few minutes. Upgrading this version requires, at a minimum:
Installing TM on each workstation. This is a WALKAROUND install
Key Changes in Version 9.08
The following changes have been made to Theatre Manager since version 9.07
Added feature to command-click on a sold seat on maps to see other tickets in the same order.
Added more visual feedback for column sort order in lists.
Added support for direct credit card authorization via Moneris in Canada for 'card not present' (USA is possible if sufficient demand).
Added some more data changes for the forthcoming iPad/iPhone app.
Point Release Version History
Point releases are minor version fixes and small enhancements to any particular version.
9.08.03 - May 26, 2011
9.08.04 - May 27, 2011
9.08.05 - May 30, 2011 (Walk Around)
9.08.06 - June 1, 2011
9.08.07 - June 2, 2011
9.08.08 - June 22, 2011
Ticket Sales
Added a neat new feature to maps where if you shift-command-click on a sold seat, Theatre Manager will highlight all the other tickets on the map that are for the same order (or orders if you command click on a range of seats that are sold). The seats will flash to show you where they are. We think this will be useful for group sales or for positioning subscribers. This same feature was added to the event (map) and manage subscription seats windows.

As of 9.08.05, you can also access this feature by selecting a seat and then right-clicking on it to access the context menu per the example. (9.08.05)

Changed the feedback when 'On Account' is selected as a payment method. The 'Accept Payment' button gets changed to 'On Account' and the screen payment area changes to explain what on account means.
Prevent accepting a payment on the resource detail window if you are editing a resource in an order. The payment cannot be applied at that time - it must be applied to the order on the 'Payments' tab. This is similar to how donations and passes/gift certificate window behave.
Ongoing performance improvements in showing data in lists on the screen.
Ticket refunds have a slightly new behaviour with this version. If you refund a ticket, Theatre Manager places you on the 'review' screen to confirm the refund as before. However, you must now click the confirm button or clear the refund in order to continue. You can no longer close the window to complete the refund. This new behaviour is designed to prevent accidental refunds.
Ticket exchanges also have a slightly new behaviour with this version. If you exchange tickets, but do not buy any new ones as part of the exchange, Theatre Manager now requires you to confirm the exchange (or clear the exchange status) similar to refunds. This new behaviour is designed to prevent accidental exchanges.
Fixed an issue for those venues that use custom order plugins and coupon codes that are targeted at the same tickets and same promotion/price code combinations - where the plugin was coded to revert all tickets under certain conditions. Theatre Manager will now apply the order plug in first, then apply the coupon. This will allow a venue to have cumulative discounts if desired.

A new feature has been added under the 'patron sales' menu to allow you you find orders directly. You could use this to see what orders were added on a specific day, created by a specific employee, changed on a date, order notes contain information, etc. (9.08.05)

The algorithm to calculate box office order fees has been restored to a per ticket basis (9.06 and earlier) so that tax calculations work better (9.08.06)
Booking a subscription will not add patrons to any default mail lists associated with each of the events in the subscription package (9.08.08)
Fix an issue when redeeming a 'free pass' for tickets with an actual value and taxes were being charged. This prevents taxes being charged on a zero value ticket. (9.08.08)
Season Subscriptions
Fixed SQL error in season rollover process (9.08.08)
Event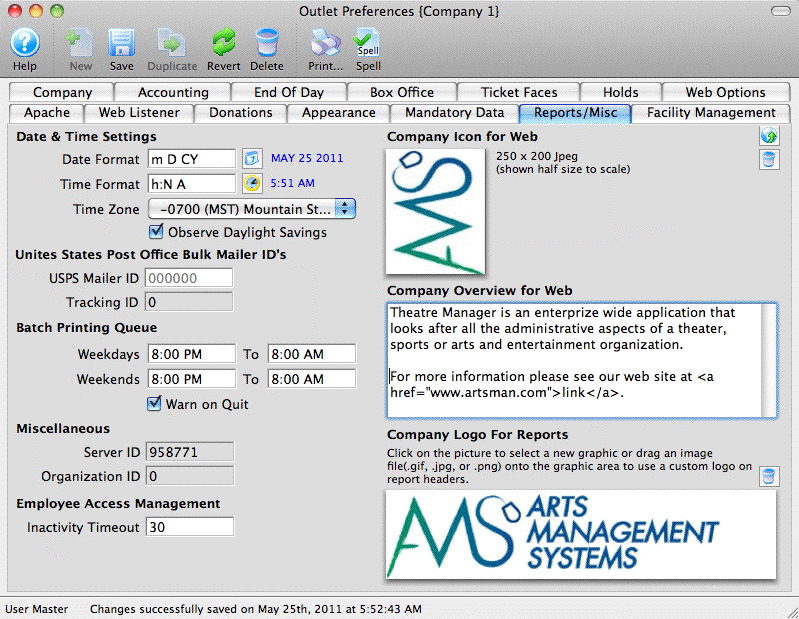 Company Preferences
Added Icon to represent the organization for iPhone/iPad App. This will allow generic logo representation of the organization as well as at the venue and event level. If you supply your company logo in this field, then it will be used if not icons are supplied for the venue or for the events. It allows setting of one logo with the option to over-ride on an event level. We recommend that all venues add an icon for their venues asap
There is a new field in company preferences where you can put up to 4096 characters to describe the purpose, mission or philosophy of your organization. This field will be exported to the iPhone/iPad application to describe your venue or you can use it on your web pages. You can use some imbedded HTML is you wish.
Added a Unites States Postal Service (USPS) mailer id field. A font will also be installed as part of the release. This is in anticipation of implementing the new USPS barcode format in the near future. We are currently working on the bar code generation rules for a point release.
Venue
Added Icon to represent the venues for iPhone/iPad App. This will allow generic logo representation at the venue level as well as icons for the event.
Added a feature to promote all icons to the eblastimage folder from the list window, or one at a time from each venue.
Credit Cards
Added an interface to Moneris (Canada) for credit card authorization.
Donations
You can no longer print donation receipts for those donations that should not have receipts 'until fully paid'. This means that if there is a current or future post dated credit card authorization still to process, you cannot get a receipt for that donation because there is a future payment -- even though the balance is zero.
Fixed donation appraiser address on the tax receipt
Facility
If an order has been created for a project, clicking the order button now displays the order associated with that project.
To-Do type tasks no need a participant to show on the calendar - otherwise a warning is generated.
Status icons added to duplicate project window.
Default project owner when duplicating a project is now the original project owner, not the person duplicating the project.
When duplicating a project, only volunteers who can perform the given activity will show in the list to select from.
Adding a new activity in volunteer scheduling was not creating a new column in some cases until the window was refreshed.
Context menus were added to the Manage Volunteers window to allow sending invites and changing acceptance status.
If Growl is enabled, it no longer reports on notifications you have previously been alerted to.
Some simplification of Notifications and some corrections to the text when certain kinds of notifications are displayed.
When duplicating a project, it now resets the billing status to Estimate instead of keeping the status of the original.
Added a legend to the project list.
Tasks that are part of another project cannot be added to a different project.
Some changes were made to how invoices can be attached as a PDF to an Email.
Added the venue to the calendar description and tooltip for tasks (when appropriate) and made tooltips and descriptions more consistent between different kinds of calendars.
Fixed an issue in seeing the correct day's information for employee schedules in group calendars.
Added Resources and Personnel list to project phase detail window.
Standardized how ICS files are created for sending and processing when they are returned.
On single day calculations, in some situations tasks from the next day could also show.
Dragging tasks on the Gantt chart now works in 15 minute increments instead of the time scale that the user is viewing the Gantt chart in. This allows finer movement of the task visually.
Fixed a crash if a user set the view for the gantt chart in month scale (9.08.05)
Added an option to the printing of the gantt chart to select and print only specific groups of tasks within the gantt chart (9.08.06)
Web Sales
Added a feature to allow administrators to force shopping carts closed that are in the process of being checked out (yet never complete). This should happen very rarely, yet it allows any tickets that are held to be recovered by the user so that they can be placed back on sale
The shopping cart inactivity timeout must now be at least 3 minutes (most venues have it between 10 and 15 minutes).
The web listeners will now attempt to resend an email multiple times in case there are issues with the SMTP server. Emails that fail once will be queued at the end of an eblast and tried again (and again) up to the number of times set in company preferences. It is recommend that the retry value always be zero and only be used for extraordinarily poor SMTP server availability. In such cases, it should not exceed 2 times, with just a single attempt being the default because more retries may require more listeners.
The meaning of the 'max tickets per performance' has been enhanced to reflect its original intention. If a value is set for maximum tickets at the performance level, the web listener will not allow any one patron to buy more than that specific quantity of tickets, regardless of the number of shopping carts that the patron opens. (9.08.06)
The algorithm to calculate internet order fees has been restored to a per ticket basis (9.06 and earlier) so that tax calculations work better (9.08.06)
Fix issue where order fees were not automatically added to passes purchased online -- if the pass was a fixed price that the user could not change. Eg, gift certificate order fees worked fine because the user entered the value of a gift certificate. A 5 play pass might not if the user is not allowed to enter the price. (9.08.08)
Reports
Improved the date/time lookup for fields that use date and time to make the interface a little clearer by using an old style leaf-clock. You can click on the leaves to alter the time or right click on any part to pick time more directly.
Added order ticket comment to promissory note payment listing on the invoice to help identify the customer in the Secondary Reseller Marketplace
Fixed an issue with the totals on the invoice in the tear off section
Corrected an issue with the invoice comments not appearing on the invoice that was introduced in version 9.07
Fix an issue where some PDF's were not being created for reports.
Added the 'source' column to the membership list report so that it will print.
Address an issue on the Daily Sales YTD report where it might not print, depending on if the sort levels included the ticket type flag
Enhanced the email a PDF (eg email an invoice) feature so that you can add patrons through drag and drop.
Added an option to the printing of the gantt chart to select and print only specific groups of tasks within the gantt chart (9.08.06)
A bug in Membership Remaining reports that preventing it from printing has been corrected. (9.08.06)
Miscellaneous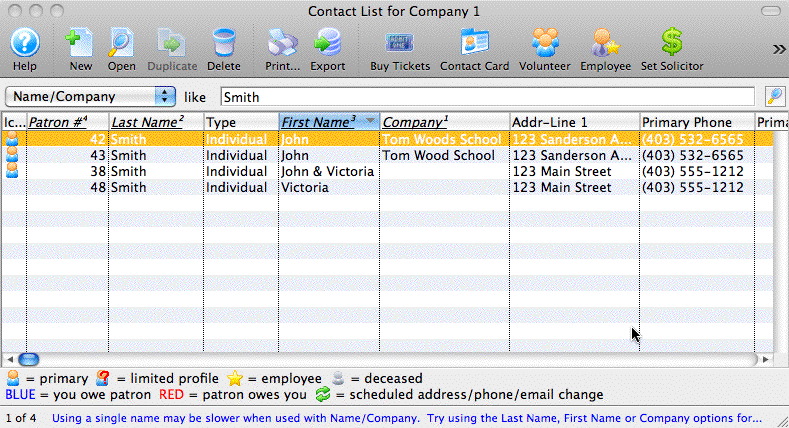 Updated the column sorting header display to reflect the current sort order. Any column that is italicized is part of the sort for the list. In addition, there is a superscript to show the sort order from field 1 to 9. To add a new column to the sort order, hold the shift key and click on the column header. To change the sort order completely, just click on the column header as normal. The above behaviours are unchanged from earlier versions of TM - the difference is the additional user feedback on the sort order.
Split the startup message that checks for outstanding emails that the web listener processes into two separate messages. One message will detail the number of 'eblasts' still to process. The second, separate notification will detail the number that are in error state. Those in error state will need fixed. Those still to process by web listeners are not errors per se, unless the number does not diminish as expected.
Hide the toolbar area on PC's in the report parameter window. There were no tools available, so the grey toolbar area was just taking up unwanted space.
There may be some some minor incremental performance improvements when updating data in the database due to improvements in the database connectivity routines
Improved the geo coding of addresses by including country in the verification process.
If a database connection drops and the client must be reconnected, the 'program name' as shown in pgAdmin now includes the word 'reconnected'. This allows a visual way for System Administrators to use the pgAdmin 'Server' window to view reconnections. Reconnects are also tracked in the error logs in the user preference directory.
There are some overall stability improvements.
Add date pickers to all date fields that are used for search purposes on list windows.
Increase the number of events that can be tracked in the patron 'bought for plays' marketing field from 780 (approx) to 4500 (approx) distinct events for one patron.
Increase the number of mail lists that can be tracked in the patron 'belongs to mail list' marketing field from 780 (approx) to 4500 (approx) distinct mail lists for one patron.
Fixed a deferred revenue posting error introduced in 9.08.00 (9.08.04)
Revised database startup check to allow using any value for the 'bytea_encoding' if Theatre Manager can find the right libpq file. If the default 'hex' encoding for postgres is used, there should be some minor performance efficiencies for letters and maps as approximately 25% less binary data is transmitted. (9.08.05)
Enable setting of language in employee preferences for all platforms except PowerPC Mac. On windows and intel Macs, you can now set the language and some menus and icons will change text. Over time, additional parts of the interface may see language enhancements (9.08.08)
Summary totals now appear in the transaction monitor as soon as it is opened (9.08.08)
Mail Lists
Fixed an issue to ensure patrons can only be on a mail list once. You may want to rebuild mail lists that were altered since installing 9.08. (bug introduced in 9.08.02 and fixed in9.08.08)

Form Letters

Added merge fields for form letters for some code table lookup values. If you already have these fields on a form letter, you will need to remove the field and re-add it back to take advantage of the change and have it print the full description. Specifically the following new fields were added:

Donation Popup 1
Donation Popup 2
Donation Popup 3
Marketing popup 6
Marketing popup 7
Marketing popup 8
Marketing/Volunteer Age Code
Volunteer Popup 1
Volunteer Popup 2
Volunteer Popup 3
Volunteer Popup 4
Volunteer Status
Donor Moves Status
Donor Giving Capacity
Order Reason Why Buy
Payment Method
Volunteer Position/Activity
Volunteer Recognition Award
Membership Card Status

Things a venue may need to do

Read all prior release notes back to the version you upgraded from and follow any instructions for each version under the subject 'Things a venue may need to do'. If you are upgrading from an earlier version, you may have to do some of the 'Things a venue may need to do' for those earlier versions.
There are a few updates to data that should be done in advance of the forthcoming iPhone/iPad app. These will help better represent your venue and events to many patrons

You should create and populate images for the event, venue and company preferences for items you wish to be in the iPhone/iPad app.
You should update the field in company preferences (Reports/Misc tab) and describe the purpose, mission or philosophy of your organization. You can use some imbedded HTML is you wish.
Please update the genre setting for each future event on the 'Marketing' tab to help users search for specific types of events in their interest area.

You may want to enter your USPS mailer id in default data for future reference.
There are no web page changes in this version.