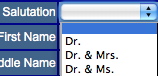 Description:
Displays the a drop down box of the available online salutations from within Theatre Manager.
Only those salutations that have been indicated as Available At Internet within their setup in Theatre Manager will be displayed.
To change the visibility of a status online go to Setup >> System Tables >> Code Tables within Theatre Manager. Select Patron Salutations in the left column. Double click on a salutation in the right column that should be available online. Alter the check box for Available At Internet accordingly. Close the window to save the changes.
Location:
htdocs/1/WebPagesEN/TMtemplates/
Able to Call Page(s):
Called By Page(s):
Page(s) Referenced: